Many physicians and successful applicants strongly advise throwing $2000+ towards commercial review courses such as Kaplan or Princeton Review. These courses are fantastic in their own right, but for those with discipline and strong study skills, there are self-study MCAT prep options at only a fraction of the cost!
We've compiled a list and review of the best MCAT prep books available, ranging from $35 per book to a $599 comprehensive self-study course. Let's get started!
In a hurry? Here are our top 3 picks:
Preview
Best Review
Best Overall
Best Budget
Model
Examkrackers MCAT 11th Edition Study Packages
MCAT Complete 7-Book Subject Review 2021-2022
The Princeton Review MCAT Subject Review Complete...
Best Review
Preview
Model
Examkrackers MCAT 11th Edition Study Packages
Best Overall
Preview
Model
MCAT Complete 7-Book Subject Review 2021-2022
The 9 Best MCAT Prep Books for 2020-2021
MCAT Complete 7-Book Subject Review
When it comes to the best MCAT prep books, Kaplan is one of the first names that comes to mind, as it's been providing commercial test prep for over 80 years in various disciplines. This MCAT book set offered by Kaplan includes an expert study plan, detailed subject review, and hundreds of online and in-book practice questions.
Written by Kaplan Test Prep's leading instructors, the extended and revised set now offers seven subject-specific books: Behavior Sciences; Biochemistry; Biology; General Chemistry; Organic Chemistry; Physics and Math; and Critical Analysis and Reasoning Skills.
For those worried about whether this MCAT review is comprehensive, Kaplan's bundle has been updated to match the AAMC's new guidelines precisely. With full-color illustrations, online resources, and high-yield badges to help you focus your study, we think these are some of the best MCAT prep books out there. All the material in this book are vetted by medical experts as well as an MD for complete accuracy.
In addition to end-of-chapter outlines that summarize chapter material, each of these books offer glossaries and indexes that makes working through the AAMC guide super convenient.
Also included are concept checks, although not really in standard AAMC question formatting, they are still helpful in recalling information and checking that you understand the content you just read. In addition to these questions throughout the books, students have access to three practice tests online. This online addition allows students to simulate test-day conditions, as this test is administered on the computer.
This 7-book series can be utilized as your main MCAT study tool and can also be especially convenient during your last 1-2 weeks of studying, as you can quickly review old material by utilizing their helpful end-of-chapter outlines.
Top Highlights:
Completely comprehensive material that's been updated to match AAMC guidelines

Easy-to-digest 3-D images, charts, graphs, and diagrams

350 MCAT questions in the book + additional questions online

End-of-chapter summaries and concept checks make for easy reviewing

Wide lateral margins for direct note-taking

Online addition with 3 MCAT practice tests for simulating test-day conditions

24 full-page Quicksheets provide visuals for important concepts
Drawback(s):
Although the content in this book is clear and concise, these books do not go very deep into the underlying principles at hand. Knowledge necessary for the MCAT is covered, but any additional, potentially helpful details are not provided.
Final Verdict:
This book is for you if you are already at least somewhat comfortable with the MCAT concepts and are looking for a solid review course. This book is not for you if you have less-than-stellar familiarity with MCAT concepts or it's been awhile since your last pre-med class.
Sale
10th Edition Examkrackers MCAT Complete Study Package
Holy details, Examkrackers.
The Examkrackers MCAT complete study package is the most in-depth and detailed test prep material we've reviewed for MCAT prep. Written by Jonathan Orsay, he deserves some credit for providing concise information to students and making this EK MCAT study package among the top of our list of the best MCAT prep books for this year.
To help you remember all this information, they have a cute (or, according to my colleague, "annoying") mascot named Salty, who provides you with graphics and cartoons. The colorful drawings and helpful hints in the margins make memorizing key facts easy. Memory is the priority here, whether or not you actually enjoy the tactics for how EK got you to memorize the details. These memorization tools are ideal for self-study, when there may be other distractions vying for your attention.
It's a complete package, with six MCAT practice books – General & Organic Chemistry, Psychology & Sociology Manual, Physics, Verbal Research and Math, Biology 1: Biochemistry Manual and Biology 2: System Manual.
Included in these books are test-taking strategies for the MCAT as well as reasoning skills, including the CARS. Three to four quizzes with about six to seven questions are sprinkled throughout each chapter, helping you to check that you understand the material that was presented. In addition, at the end of each chapter, there is a 30-minute exam designed to test your knowledge in MCAT format immediately following your review of the content information in the chapter.
Similarly, at the end of the book there are a few 30-minute practice exams of 20 questions. They are pretty difficult – harder than what you will find on the MCAT, which makes for great practice. You can also score yourself afterwards and they have a scale that shows you an estimation of what your section score would be on the real MCAT. We totally dig this feature!
Top Highlights:
Lots of examples in the slightly humorous EK teaching style (or maybe we're just easily amused)
Helpful hints in the margins help you to remember key information
Several 30-minute practice tests throughout the book with a scale to estimate a real MCAT section score
Extremely in-depth material
Drawback(s):
It's hard to call too many details a drawback, but some of the details provided in this book go above and beyond necessary MCAT review. Perhaps this additional knowledge can serve as nerdy small talk at your next party.
Final Verdict:
If you are struggling with MCAT studying and need a bit more than just a review, these are the best MCAT prep books for you. As these books are heavy on details, you should devote more than 3 months to studying with this book. We'd recommend 5 months to get through this dense material if you are not completely familiar with all the concepts.
Considering an EK class? Read our review of the Examkrackers MCAT Course
Sale
Princeton Review MCAT Subject Review
This 7-book set is included in their course for free: Read our Full Review of the Princeton Review's MCAT Course
Princeton Review joins the ranks of Kaplan and Examkrackers in terms of its influence in the online and book-based test prep. The Princeton Review's 7-Book set is quite similar to Kaplan's in terms of content covered and formatting of its material and if you look at the product details, you'll find that it's difficult to even see where Kaplan's 7-book set and Princeton Review's differ.
Similar to Kaplan, PR provides 3 full-length practice tests, end-of-chapter concept review, easy-to-reference glossaries, high-quality quizzes, and colorful graphics. Where we found a difference, however, is in the level of details Princeton Review goes into. PR provides more in-depth information on principles than Kaplan, especially using a distinct tone in its writing, offering a more professional language that errs seriously
The Princeton Review offers 7 books: MCAT Biology Review, MCAT Biochemistry Review, MCAT General Chemistry Review, MCAT Organic Chemistry Review, MCAT Physics and Math Review, MCAT Psychology and Sociology Review, and MCAT Critical Analysis and Reasoning Skills Review.
Top Highlights:
More in-depth information on principles than Kaplan

High-quality end-of-chapter quizzes for review of concepts

3 full-length online practice tests

High-quality graphics for learning difficult principles
Drawback(s):
Thicker than Kaplan's books, PR tends to provide additional information that is not required by the AAMC and sometimes seems to be a bit outdated (and awfully similar to its first edition).
Final Verdict:
This book set is for you if you still hope to absorb some new science skills and need to brush up on pre-med concepts, as the content goes deeper and provides more details than Kaplan. If you are looking for a less detailed review for the MCAT, you're better off with Kaplan.
Sale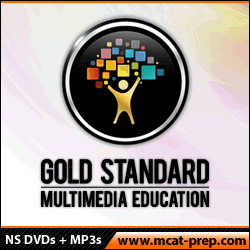 This isn't just a set of books. And this recommendation certainly is not priced as such, either.
The primary reason this made our best MCAT prep books list is because it's a completely comprehensive course set up to serve as your only necessary purchase towards preparing for the MCAT.
Gold Standard now offers 3 distinct Complete MCAT Home Study Courses. Students can choose among the Kaplan boxed book set, the Princeton Review boxed book set, the Examkrackers boxed book set. There is also the option to tack on all AAMC materials to go with whatever package you chose.
This home study course by Gold Standard is chock-full of practice questions (over 4,000), 5 full-length tests (the other courses by Kaplan, PR, and EK only offer 3), at least 8 books, and 5 additional CARS full-length tests to supplement its CARS program. You will also get a copy of the AAMC Official Guide to the MCAT as well as a flashcard study system with their mobile app. To top it all off, this home study kit includes a DVD on the medical school interview and how to nail it.
Similar to the other comprehensive MCAT prep packages, Gold Standard offers its online access for explanation videos and is heavily catered to those who learn through visuals and audio.
Top Highlights
Online MCAT practice tests simulate the actual testing computer's interface for the day of the MCAT
Complete explanations to practice tests and instant scoring
5 full length-tests and 5 CARS full-length tests
CARS program with test-taking strategies
Over 5,000 practice questions
Drawback(s):
As a one-stop-shop for an MCAT home study program, this package comes with a lofty price tag.
Final Verdict:
If you are a visual learner and still want a fully comprehensive and guided test prep experience from the comfort of your own home, then this is the MCAT prep for you. At the end of the day, this is still cheaper than a commercial in-person MCAT prep course.
Best MCAT Book for Sociology
Sterling Test Prep MCAT Psychology & Sociology

We've reviewed and listed a couple of Sterling's MCAT prep books because they manage to do an incredible job putting theory into practice for their section-specific prep books. We don't find the sociology aspects of most MCAT prep to really help teach the qualitative sociological theory that's necessary to truly understand its components.
This Sterling's prep book helps you to actually apply these theories and grasp them more than you would through traditional MCAT prep self-study books. This MCAT Psychology and Sociology book provides a detailed and thorough review of the updated psychology and sociology topics tested on the MCAT 2019 We're also confident that all topics and skills in this book are according to the AAMC guidelines for the redesigned MCAT.
Top Highlights:
Covers foundational principles and theories not found in other test prep

Well organized with 15 focused knowledge areas

Detailed explanations
Drawback(s):
This isn't a practice book and you won't find practice questions here, as this book will teach you the sociological theories and their application. If you are looking for further Sociology practice, you'll need to find some research-based passages to help get a better idea of what material you'll actually be tested on the MCAT.
Final Verdict:
For what you may find lacking in the rest of this list for best MCAT prep books in terms of-depth theory and application of psychology and sociology, this book helps to review the main concepts for the MCAT better than the others for the redesigned MCAT. But if you need practice, you'll be wise to find additional resources.
Best MCAT Book for General Biology:
Sterling Test Prep MCAT Biology & Biochemistry
Here's our second Sterling recommendation that made our best MCAT prep books list, specifically for general Biology. We bring this book to your attention because most pre-med students don't need much more knowledge on general Biology, yet still can benefit from some additional practice, especially with practice problems that incorporate biochemistry. This is a fantastic brush-up book to practice and really hone in on using what you know on the MCAT. That's why we ranked this as the best MCAT prep book for general Biology.
Top Highlights:
20 Chapters of questions grouped by concepts
Answer keys and detailed explanations to questions
1,200 high-yield practice questions
General strategies for taking the MCAT
Drawback(s):
The questions can be fairly easy, so depending on your level of knowledge in chemistry, this may not be very comprehensive for you. Similarly, you will not find a ton of review but rather practice. If you are still looking to brush up on your Biology & Chemistry concepts, this won't be enough for you.
Final Verdict:
If you are already recently versed in Biology and Physiology and just need to brush up on questions, then this book is for you.
Related: 8 Free MCAT Study Guides
Best MCAT

Study Guide
MedQuest MCAT FastPass Study Guide
Disappointed with expensive MCAT prep courses, Elizabeth Malphrus and Conrad Fischer MD set out to create a course that would give future students a better MCAT prep experience, for about a quarter of the price.
This book is a fantastic study guide and offers bulleted review of main concepts for the newest MCAT and allows you to get a simple understanding quickly of each aspects of what's going to be on the MCAT. Fastpass gives you the the exact items that's tested, how it's related to the MCAT exam and the application to the human body, making it among the best MCAT prep books for general study guides.
Top Highlights:
Read through the essentail concepts for the MCAT, and

nothing else

Can be supplemented with Berkeley or ExamKrackers as a complete package

Simple, concise, and direct information
Drawback(s):
This book has some typos, which aren't a huge deal, but can be annoying in a prep resource.
Final Verdict:
This isn't your comprehensive study guide, but if you are looking for one more study guide to review your information (and also help to finally put concepts together), then this is the study guide you're missing.
Sale
Best MCAT Book for CARS:
CARS resources fail us because most test prep books don't touch on the real thing. This is why we like AAMC's practice. These passages and questions come from past MCAT exams and are written clearly and precisely. The passages are created to be timed on the computer, so you can have a taste of what a real MCAT would feel like under such time crunch. Making it the best MCAT prep books for CARS, the questions are all mapped to the Critical Analysis and Reasoning Skills Section.
Top Highlights
Practice tests with format and features of an actual MCAT
Can review answers and pinpoint any error patterns in your testing

120 passage-based questions and solutions, with passages coming from humanities and social sciences
Drawback(s):
We're not convinced this is exactly how the CARS is now being tested on the MCAT, as we believe the questions and passages on the MCAT today are a little more difficult.
Final Verdict:
For those looking for an additional, cheap resource for CARS, this is really your best bet that will help you identify your weaknesses and improve upon them.
Best MCAT Book for Physics:
The MCAT Physics Book
The MCAT Physics Book is especially great for learning, as it breaks things down into manageable chunks and teaches timesaving shortcuts. This book is well organized into 14 chapters and instructive, as they manage to string together problems to help increase comprehension. For those who enjoy a bit of humor in their prep, the author is a bit of a goofball, making puns throughout the text.
At the beginning of each chapter, you will find a briefing as well as multiple-choice questions and passages. Nova's MCAT Physics book is the best MCAT prep book available for practicing and learning Physics for test day.
Top Highlights
49 passages and 500 practice problems
Friendly tone and puns make this an interesting prep material
Concise and quick to read
Drawback(s):
The passages in the chapters aren't representative for the new MCAT and they don't integrate biology and chemistry as you will encounter on the real MCAT.
Final Verdict:
This is a great aid for brushing up on the physical science portion of your studies and recommended for anyone who is struggling on the general concepts or skillset to approach Physics. But if you already feel confident about the Physics concepts and want to practice, then choose an alternative, such as If you feel confident about the concepts and just need practice for MCAT buy the Examkrackers 1001 Questions in MCAT Physics.
Studying for the MCAT?
Do you think these are the best MCAT prep books available? We're always looking to offer the best options for every student.. let us know what you think by commenting below.
Still want more? Check out the best MCAT flashcards and free tools to supplement your study.
Want Free Money?
Check out this list of MCAT scholarships that you can apply for this year!
Get up to 20% off some of the best MCAT prep courses on the market today! That's up to $159 in savings.
Have you purchased any of the best MCAT prep books that made our list? Which one? Let us know your experience with this MCAT book by commenting below! We'd love to hear your insight.
Considering a prep course? Check out the best MCAT prep courses for this year.
Practice makes perfect! Don't forget to check out our free MCAT practice tests that you can utilize when prepping for the MCAT.